MEMBER SPOTLIGHT! September 2016
Meet JADE!

Meet Jade! Our September Studio Fusion Fitness Rockstar! When we asked Jade what inspires her to workout and what she loves most about Studio Fusion this is what she had to say:

Hi! My name is Jade Ekstedt and I am a 38-year old mother of two. Two years ago, Studio Fusion offered a free trial for a dance fitness class called WERQ. I have always loved to dance so I decided to give it a shot! From the moment the music turned on my soul found instant joy and I was hooked! WERQ has truly changed my life! I began training and assisting under Master WERQ trainer, Ruben Per, and was recently certified to teach nationwide by WERQ Creator, Haley Stone. Who would have thought that at 38 years old I would be a GroupX trainer! WERQ has allowed me to celebrate my femininity again and channel my inner "So You Think You Can Dance" soul. I hope to bring the same happiness to each of my students and make their weekly WERQ experience unforgettable!

How long have you been a member at Studio Fusion: I have been a member of Studio Fusion for two years.

How many times a week do you workout? I try to work out at least two to three times a week.

What Inspires you to workout: My number one inspiration to work out are my two amazing kids:) My goal is to create a healthy lifestyle for our family and I hope that I can set a good fitness example for the two of them that they can bring to their own families one day.

What Motivates you to keep coming back to Studio Fusion: I am an avid GroupX fitness fan! I love trying out as many different group classes as possible and Studio Fusion offers an amazing variety of unique and fun classes that are taught by some of the best fitness instructors in the industry.

What Advice Would You Give to Someone Starting out on their fitness Journey: There is no one fitness journey that is right for everyone. For me fitness is a personal decision that is affected by a variety of different influences and factors on any given day. So my advice would be to find the path that brings you the most joy! Life is to short to spend time doing something that makes you unhappy. If you find a program that leaves you smiling at the end then that is the right path to be on:)

~ Thank you for sharing your fitness story Jade! We LOVE having you and your positive energy at Studio Fusion!

If you know someone who has a great story of health and fitness that you would like to nominate for our next Member Spotlight, please email us at s.fusion1@yahoo.com!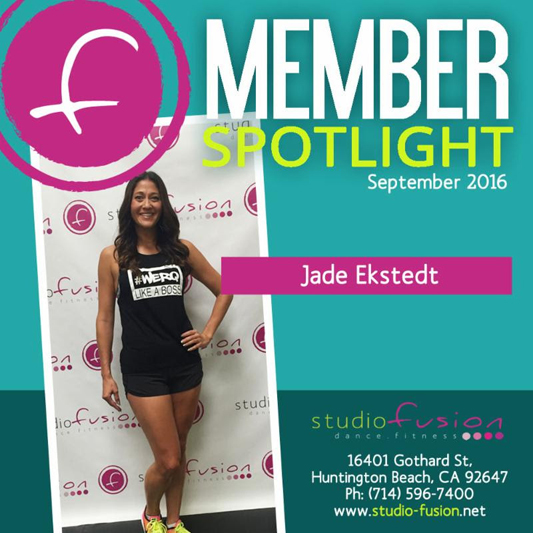 Studio Hours

Monday

8:30AM - 8:30PM

Tuesday

8:30AM - 8:30PM

Wednesday

8:30AM - 8:30PM

Thursday

8:30AM - 8:30PM

Friday

8:30AM - 8:30PM

Saturday

8:00AM - 2:00PM

Sunday

8:30AM - 11:00AM

M-F closed for lunch.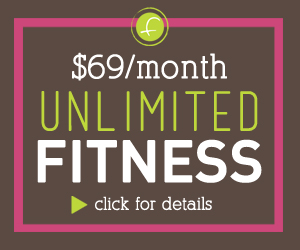 © 2015 Studio Fusion All Rights Reserved