Mini Dance Camp- June 26 - 30, 2017, Half-day $210, Full day $249, Daily Drop-in $50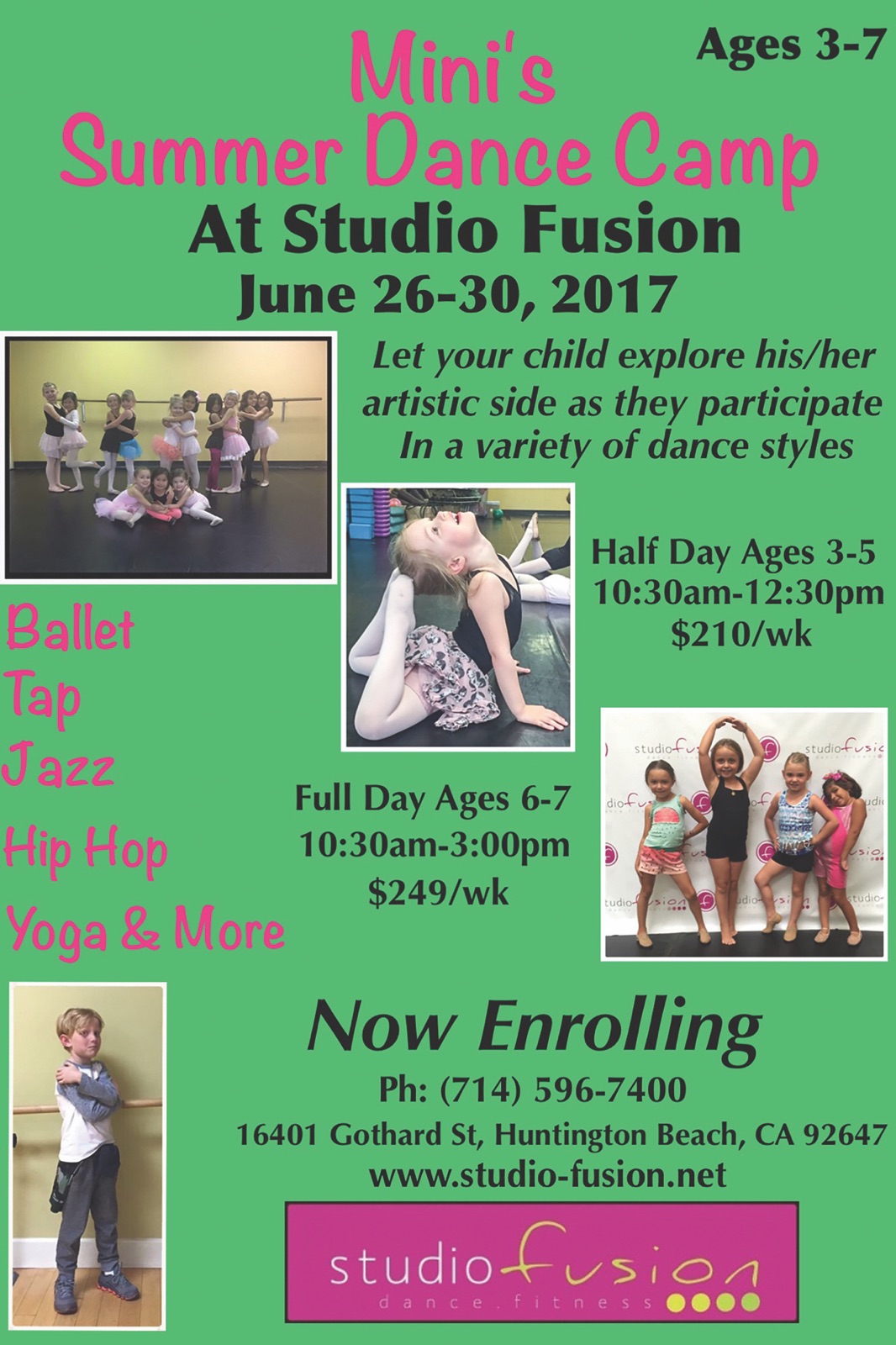 We are so excited for our 2017 Mini summer dance camp. This summer just got a whole lot more fun. Join us to experience the very best in dance instruction, performance, and FUN! Nowhere else can you find our unique combination of world class facilities, instructors and a stunning SoCal location, right in the heart of Huntington Beach. Studio Fusion's Mini summer camp is for boys and girls ages 3-7.
Come join us for our FUN, ENERGETIC, and CREATIVE mini camp. No previous dance experience needed! This camp will include a variety of activities to keep kids moving while building strength, coordination, flexibility, performance skills, self-esteem, physical fitness and friendships. Let your child explore his/her artistic side as they participate in a variety of dance styles. Our experienced camp instructors will provide various instructions in jazz, ballet, hip-hop, tap, tumbling, and conditioning. There will be a final performance for friends and family on the last day of each camp.
Ballet Intensive- July 10 - 14, 2017 $275/week or $65/day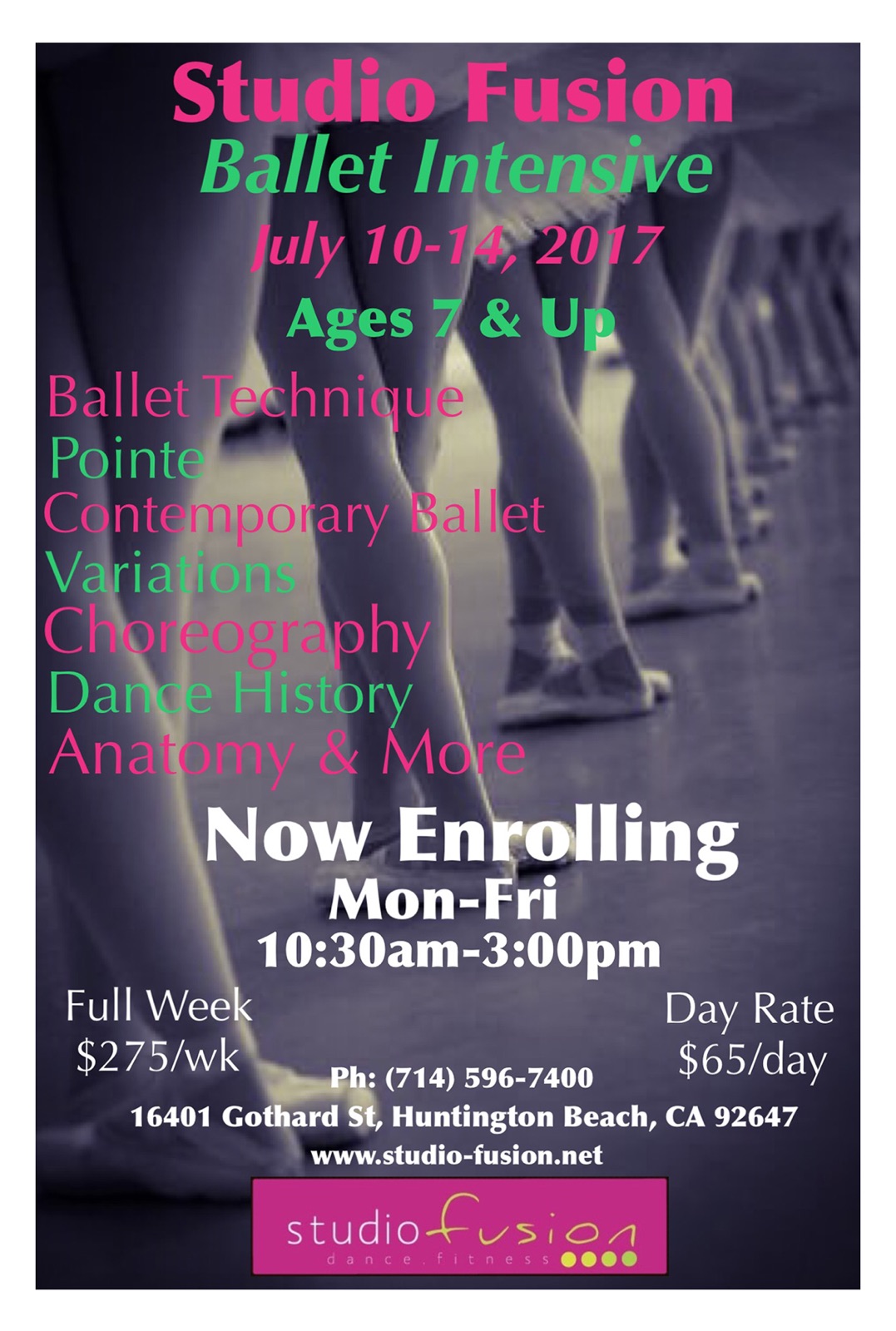 Ballet is the foundation of all dances and provides grace, poise, and technique needed to be proficient in all areas of dance. Ballet helps to build strength, balance, coordination, and flexibility, while maintaining proper alignment. Our summer ballet intensive has master teachers and professional ballet dancers teaching. Our ballet intensive will have the students, ages 7 and up, learning ballet etiquette, ballet history, anatomy, nutrition for dancers, as well as technique classes. We have multiple levels of classes and offer training from the beginning student to the highly advanced dancer.
Dance Intensive- August 7 - 11, 2017, $275/week or $75/day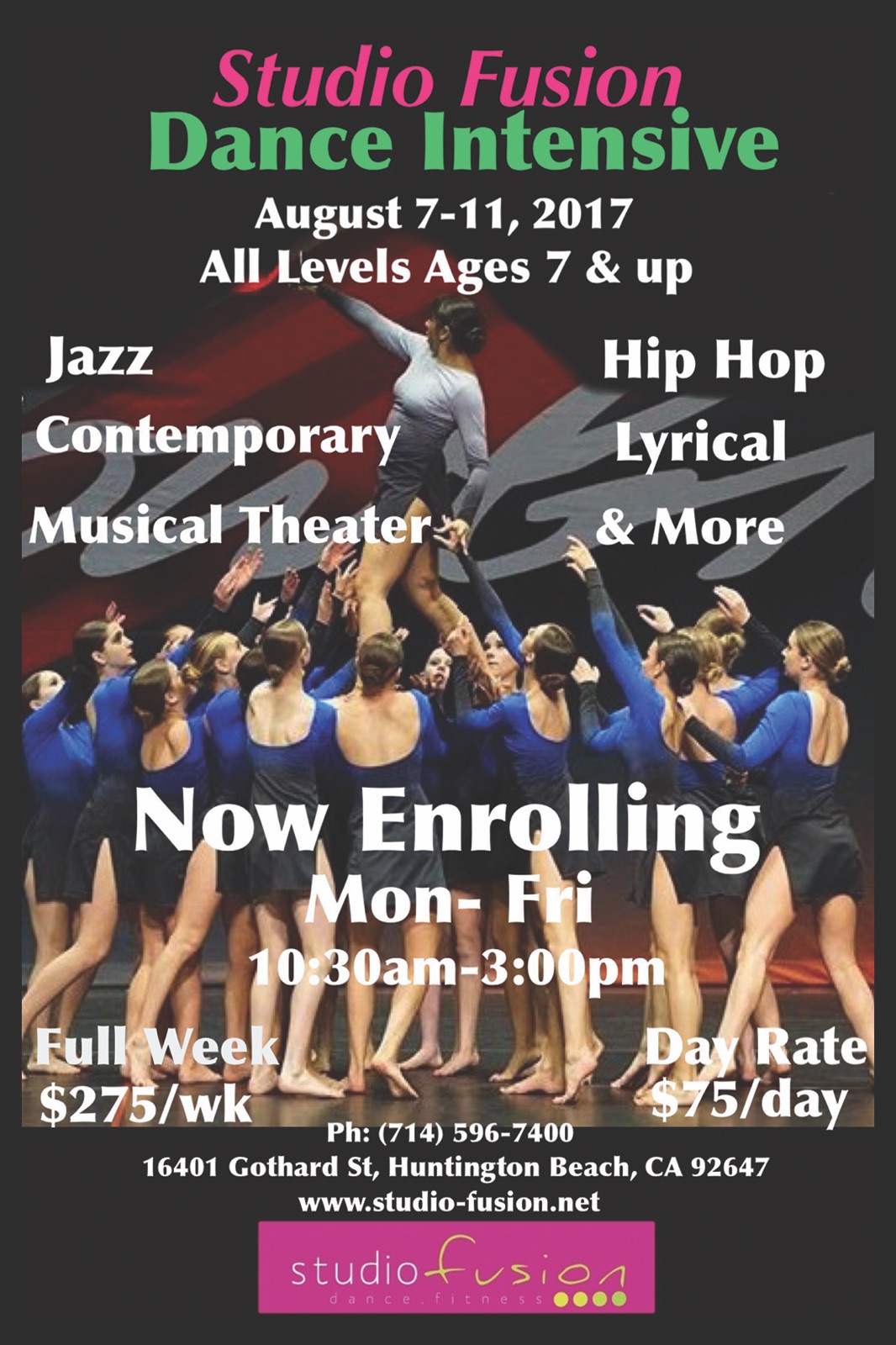 Our dance team intensive will have dancers learning jazz, lyrical, contemporary, and hip-hop technique. We will work on turns, leaps, stretching, and conditioning for the dancer. Our goal is to get the dancers to learn how to move their bodies in ways that they may not be used to. The kids will learn how to pick up choreography quickly and work on their performance. We bring in professional choreographers and dancers to ensure that the kids receive the best training possible. At the end of camp the students will have the opportunity to audition for our award winning dance team and be a part of our 2017-2018-competition season.
© 2015 Studio Fusion All Rights Reserved