October 2015
Leizl is married and a full time mother. Leizl has been a member going on 9 Months now at Studio Fusion! We recently asked Leizl to share with us her secrets to staying committed to her health and fitness.

What inspires you to work out? - "I'm in love with my husband and children. Working out helps to prevent a wide range of health problems. I'm inspired to workout to stay healthy for myself and my family... and because i love food!"

What motivates me to keep coming back to Studio Fusion? - The instructors motivate me!! They are amazing and very knowledgeable. They show that they love what they do and have fun. I always feel AWESOME after taking a class. This studio is so much fun!!"

For someone just starting: "Take small steps... Small things really do help the big things happen. I joined Studio Fusion in January, by June, I lost 20 lbs by taking classes and watching what I eat. I have kept off the weight. My next small step is to tone up and lose more inches."

~ Thank you Leizl! We Love having you at Studio Fusion and helping you reach your fitness goals!

If you know someone who has a great story of health and fitness that you would like to nominate for our next Member Spotlight, please email us at s.fusion1@yahoo.com!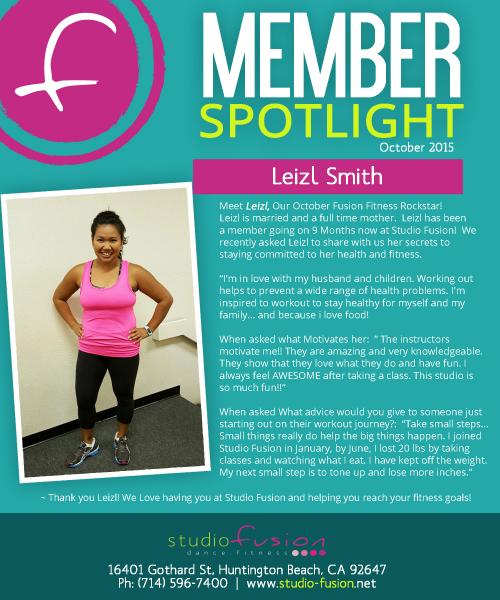 Studio Hours

Monday

8:30AM - 8:30PM

Tuesday

8:30AM - 8:30PM

Wednesday

8:30AM - 8:30PM

Thursday

8:30AM - 8:30PM

Friday

8:30AM - 8:30PM

Saturday

8:00AM - 2:00PM

Sunday

8:30AM - 11:00AM

M-F closed for lunch.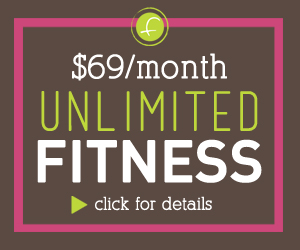 © 2015 Studio Fusion All Rights Reserved