MEMBER SPOTLIGHT! February 2016
Meet Kimthi!

Our February Fusion Fitness Rockstar! When we asked Kimthi what she loves most about Studio Fusion this is what she had to say:

I absolutely LOVE Studio Fusion!! I have been a member at Studio Fusion for 5 years now! When I first joined, I was coming to workout 6 times a week but the past year because of some health issues I'm coming 4 to 5 times a week. I get inspired to workout because I believe in being healthy eating healthy and exercise.

Studio Fusion keeps me motivated to come back and I'm motivated by people that I've made friends with at the studio. The staff at the studio are very nice and trustworthy but most of all by all the instructors, who are all great. I don't get that just anywhere. I like the small class sizes as well. The facility is always clean and modern.

I believe If you want to live a long happy life, mentally healthy, active and present in your families lives, workout.

~ Thank you for sharing your fitness story Kimthi, We LOVE having your positive energy at Studio Fusion!

If you know someone who has a great story of health and fitness that you would like to nominate for our next Member Spotlight, please email us at s.fusion1@yahoo.com!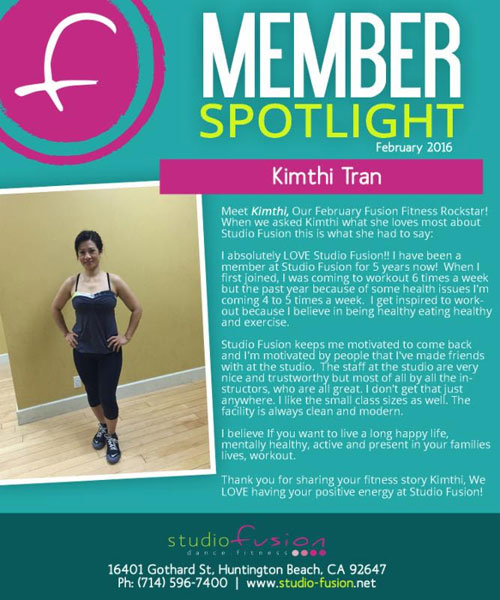 Studio Hours

Monday

8:30AM - 8:30PM

Tuesday

8:30AM - 8:30PM

Wednesday

8:30AM - 8:30PM

Thursday

8:30AM - 8:30PM

Friday

8:30AM - 8:30PM

Saturday

8:00AM - 2:00PM

Sunday

8:30AM - 11:00AM

M-F closed for lunch.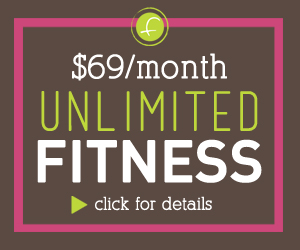 © 2015 Studio Fusion All Rights Reserved