August 2015
What can we say, but that she is SIMPLY AMAZING!! We love having her as part of the studio fusion fitness family. Her smile is infectious and her drive is endless...read more about her own Studio Fusion experience and how health and fitness has changed her life!

Tell us about myself? What? Like I'm Sixty (Bleep) Four years old - married - no kids - 2 dogs?? um...BORING. I'll go back a bit... I was a chubby kid/adult. Maybe the most UN-athletic person ever. Yep, always the last to be chosen on a team, the one who hurt herself in PE or ditched it on a regular basis. NEVER exercised until I was 35 yrs. old! No, not kidding - 35. Decided to 'clean up' my act - get healthy. Lost about 40 lb over 30 years ago - Why? My mom had a chronic disease (MS) - watching her decline - drove home how important it is to stay UPRIGHT and MOBILE.. that sparked my road to fitness - oh, and working with JUST men... athletes, technicians, most young, hot, and critical.

For 30 years I worked for American Honda - 25 yrs. of it I ran the Motorcycle Race Teams. It was just me and anywhere from 25 to 50 men - depending on the size of our team that year. I was COMPELLED to stay thin/fit - or be laughed out of Racing! Retired in 2009 - immediately apparent, one of the BEST things about retirement - I could work out as much and whenever I wanted!! I went from 2-3 times a week to 4-5... enjoyed it - but wasn't getting noticeable results.

How long have you been a member of Studio Fusion? I think I've been a member at Studio Fusion for 2 years???? not sure... but sounds about right?? Now I work out 6 times a week... I normally hit the Studio every day but Sunday. Sure there are weeks I miss a day/two.. Shit happens - stuff comes up - I need to tend to my dad - or am scheduled for a morning therapy visit with my dog.. but trust me. I am NEVER happy when I miss my workout!!

What inspires you to work out? - my advancing AGE mostly - as I see my 'peers' getting heavy, old, unable to move, dance, enjoy life.. the attitude 'I'm old now - I'm supposed to be fat' - makes NO sense at all - yet I hear it all the time.. I hear: You're 64 years old - why bother? Because I look, feel, and act a LOT younger than my age. We have plenty of time at the end of the road to be old women - I'm fighting the good fight - all the while realizing and honoring my (many) limitations.

What motivates me to keep coming back to Studio Fusion? - RESULTS! Unfortunately, I CANNOT work out on my own.. Tried videos, UTube, etc. etc. I need the structure, energy, and guidance of a class. I love Studio Fusion because I get a GREAT variety of classes to meet my needs and (more importantly) my moods! Also - I feel we are super lucky to have AMAZING instructors - all experts in their own right. I love the fact I can come in for one class - and if I'm not 'feeling' it - can simply slide into another great class.. I enjoy all the classes I take - but without a doubt - my favorite is Piloxing.. OK, so I blow at the balancing Pilates part - but love it anyway.

For someone just starting - I'd say PACE yourself! We all went hog nuts at first - thinking if you kill yourself working out - you'll get killer results really fast. Learned the hard way - that only leads to injury. I'd say start slow - few times a week - mix it up - see what you like best - or what FEELS like it's working... Nothing worse than working out and NOT feeling at least a LITTLE sore afterward - you've got to 'feel' the class - at least a little (a lot is better) - but just showing up isn't enough.

Thank you Andrea for sharing your infectious energy with us! If you know someone who has a great story of health and fitness that you would like to nominate for our next Member Spotlight, please email us at s.fusion1@yahoo.com!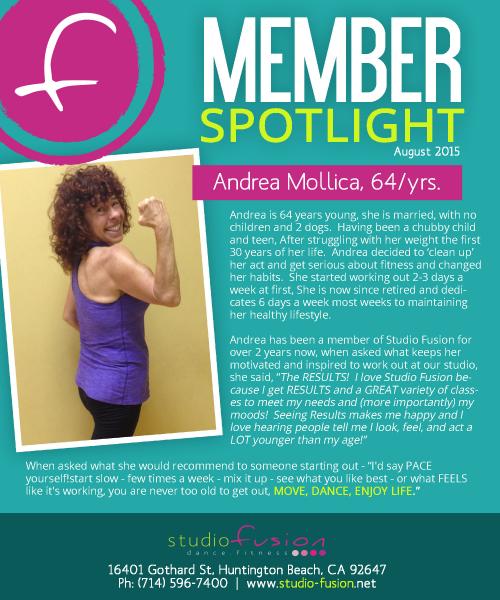 Studio Hours

Monday

8:30AM - 8:30PM

Tuesday

8:30AM - 8:30PM

Wednesday

8:30AM - 8:30PM

Thursday

8:30AM - 8:30PM

Friday

8:30AM - 8:30PM

Saturday

8:00AM - 2:00PM

Sunday

8:30AM - 11:00AM

M-F closed for lunch.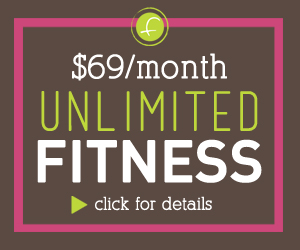 © 2015 Studio Fusion All Rights Reserved